I wish I could pictorially represent this one post!
If you are in Delhi - you must learn these two words to get through things.
Bhaiya
literally translates to big brother. However, in Delhi anyone from the less educated working class people who have migrated from the remote areas of UP, Bihar and MP are called
Bhaiya. Not to mention, Bhaiyas are always chewing Gutka (some form of tobacco, to make them easily identifiable!)
Sadly, it has become a slang. But we Delhiite use this word too liberally.
From bargaining from a street shop at Sarojini (
Bhaiya, theek theek laga lo)
to ordering food from a Hauz Khas Cafe
(Bhaiya, ye bohot spicy to nahi hoga?),
the word Bhaiya is a necessity in the language spoken in this part of India. The language is
Hinglish
by the way - a comfortable amalgamation of Hindi and English!
And trust me, I am not exaggerating. If you are from Delhi, you know how important a
bhaiya
is in our daily lives! And I don't mean any offence to anyone or any community. It is just that this word is super important to us!
The second word that I am talking about is an abuse in the literal sense. However, people in Delhi are famous for loosely using any word. So, this particular word conveniently fits every situation. Usually, every sentence in the local street language or language used in informal conversation starts and ends with BC!
In fact, it is used so often that now it is not considered an abuse anymore.
Literally, this word means a person who f*cks his sister.
However, now you really don't need to take any offence if someone uses it for you - just Delhi things bro!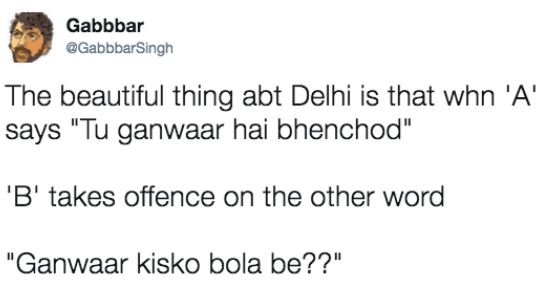 And the combination of these two words actually give a deadly outcome - in almost every situation:

Did you have any encounter with these words which cracked you up? Care to share?